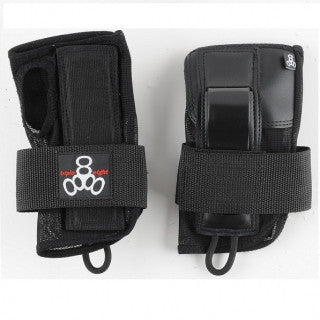 Triple8 Wristsaver II
$ 20.00
608 Skate carries 2 types of wristguards currently: Triple8 Wristsaver II (2) and Triple8 RD Wristsaver. The Wristsaver 2 gets its numerical distinction from its predecessors in design. Original Wristsavers (also available thru special order only) have the common 3-strap design, which has its charm (easy to open up for quick drying) and its downfalls (Velcro at knuckles often requires duct tape for longevity, too soon for my taste) all the same. What's different about the Wristsaver 2 is its pull-on design, which only requires one single wraparound strap. It has meshy, stretchy, breathable sides and replaceable splints double-stitched on the front and back of the hand for durable all-around support and protection. Since the strap is made of nylon webbing, it does not stretch out over time, meaning you get consistent, reliable fit at the wrist for a longer period of time. *Pad longevity varies depending on frequency and intensity of use, as well as proper care and storage between uses.
Wristsavers Sizing Guidelines:
To ensure a perfect wrist guard fit, measure hand circumference at the knuckles and match to the sizes listed below:
Jr 7.0 – 7.5 inches
S 7.5 – 8.0 inches
M 8.0 – 9.0 inches
L 9.0 – 10.0 inches
Remember to keep your new pads smelling new- all new gear purchases get you $1 off a bottle of Notorious RED Gear Deodorant Spray!