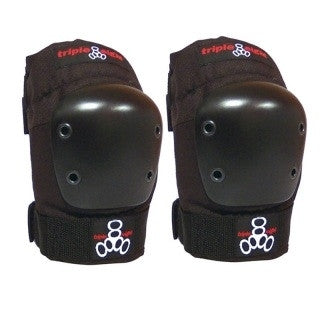 Triple8 Elbow Pads (EP55)
$ 30.00
One of two elbow pad varieties currently stocked by 608 Skate. (Of course there are more out there than these 2, and I will expand my offerings in the future to suit wider needs. Until then am happy to special order your preferred choice if I can get it, or point you toward another shop that does.) Here's what I got for now!
Honestly, I recommend trying on both types (187 and Triple8) if you haven't already, because most people I've talked to either love or hate one or the other. It comes down to individual arm shape and preference.
These are the ones I like, fwiw. Rather than neoprene, the sleeve is Lycra, which I find softer and cooler in the pit of my elbow. There is an elastic top strap for a flexible fit that moves with your bicep, but unlike the 187s, the bottom strap on the Triple8 is nylon webbing which offers a firm hold and prevents the pad from slipping down your forearm.
Triple Eight EP 55 Elbow Pads
(Elbow circumference with outstretched arm)
XS 5-6 in
SM 6-8 in
MD 8-10 in
LG 10-12 in
XL 12-14 in
Don't forget to take advantage of the $1 off deal on Notorious RED spray with every new protective gear purchase!